2023 Photo Competition Now Open!
Bord na Móna's Mountlucas Wind Farm team are offering you a chance to have your photo included in our Mountlucas Wind Farm 2024 calendar!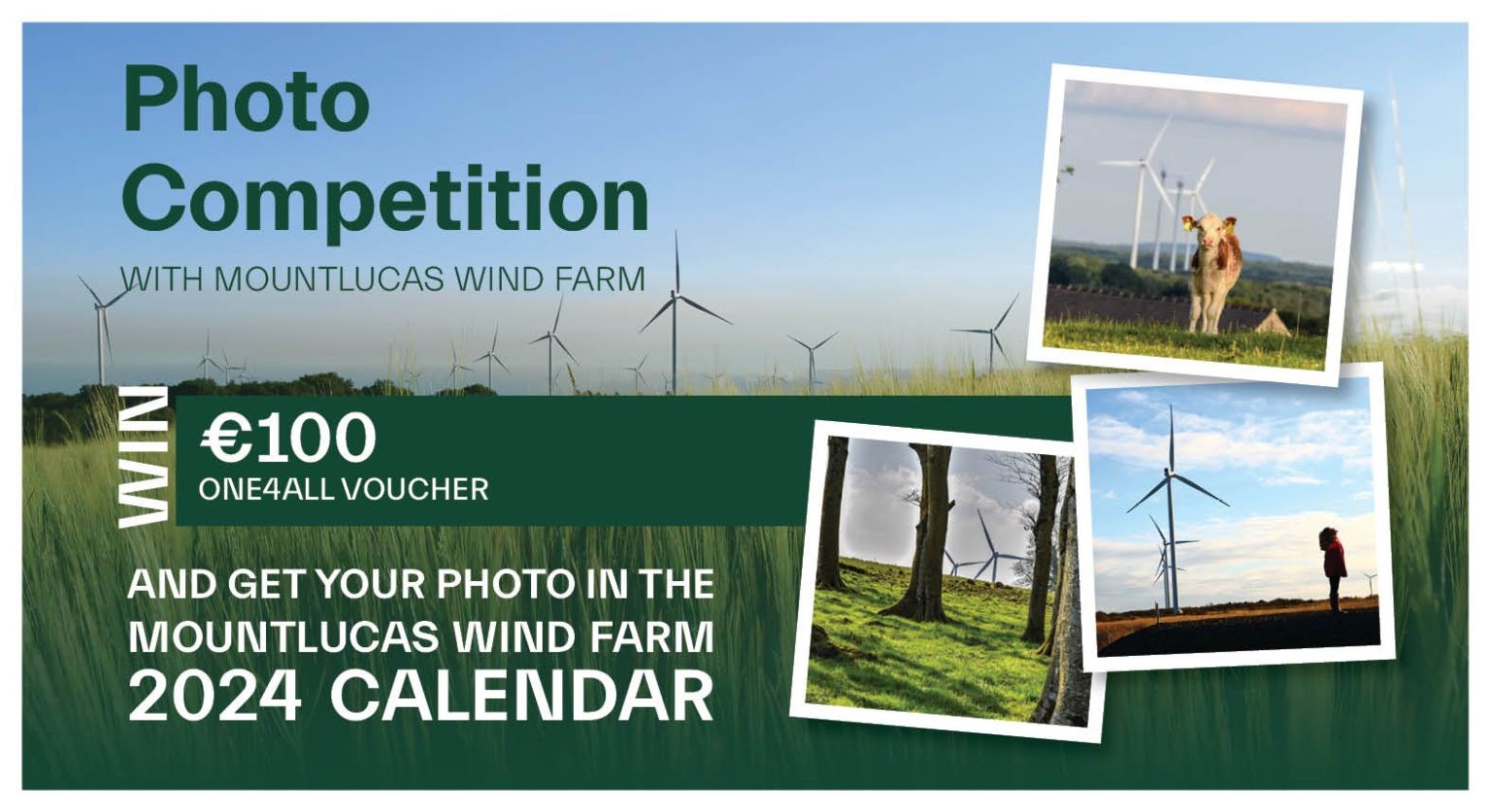 Submit a photo before Friday, 24th November 2023 either taken from our Mountlucas Wind Farm, or featuring some aspect of Wind Farm, and you could be in with a chance to feature in our 2024 calendar and win a €100 One4All gift.
Your photo doesn't have to feature wind turbines, but must feature some aspect of the Wind Farm such as biodiversity or rural life around the wind farm – we're looking for creative angles!
For more information on how to enter, and to review the competition Terms & Conditions - click here
Safety Notice - Quads and Motorcycles
Bord na Móna provide a public amenity at both the Mountlucas and Cloncreen Wind Farms. This facility provides a safe location for families to enjoy the open expanse which our wind farms have to offer. Recently, we have noted a number of quads and motorcycles using these sites.
Please note this type of vehicle is prohibited on all Bord na Móna lands. Gardai have been advised and will monitor these sites over the coming months.
Community Gain Scheme 2023 is closed for applications
The Mountlucas Community Gain Scheme 2023 is now closed.
Thank you for your participation.
New Sensory Garden Open
We are delighted to announce that we have opened a new Sensory Garden at the Mountlucas Wind Farm. The garden was developed to provide children and adults alike with the opportunity to gain physical and mental stimulation while being in an outdoor environment, and is a refuge for everyone to enjoy and to explore all that nature has to offer at Mountlucas Wind Farm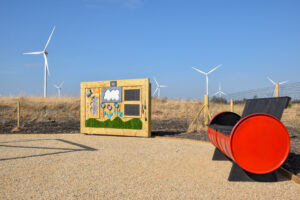 100th parkrun Completed!
Congratulations Mary and Enda!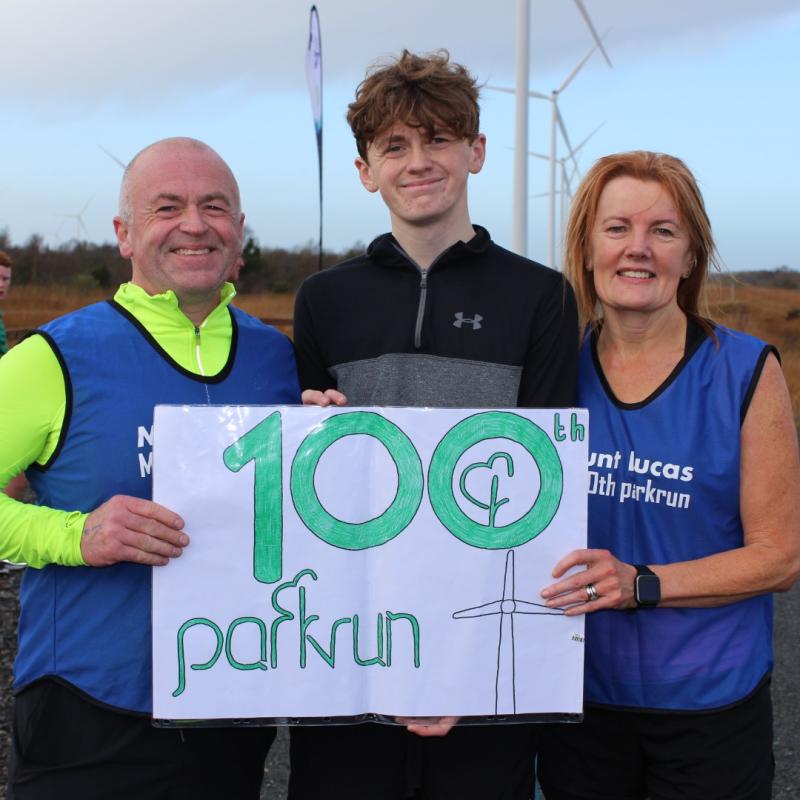 Mountlucas Wind Farm would like to congratulate Mary Rowan and Enda Scully on completing her 100th parkrun, all of which was completed at the Mountlucas Wind Farm on our 5km parkrun route.
This is a free event every Saturday morning at 9.30am sharp, and all are welcome.
Lost & Found Boxes Installed at Mountlucas
Lost & Found boxes have been installed at each walkway entrance at Mountlucas Wind Farm.
If you find something while you are out walking, please drop it into the box. If you have lost something, please call Catherine on 087 1175756. All Boxes are monitored and checked daily.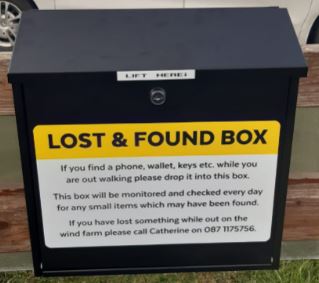 The Wind Farm
The purpose of the Mountlucas Wind Farm is to generate renewable electricity for the domestic electricity market in Ireland.
Community Benefits
We ensure that people living around Mountlucas Wind Farm benefit from the wind farm by supporting communities through our various Community Benefit packages.
Gallery
The Mountlucas Wind Farm is proud to offer a variety of amenities to enhance the enjoyment of the local community and visitors.  We also are home to a diverse range of wildlife.
Amenities
There are several amenities to be enjoyed by the local community and visitors at Mountlucas Wind Farm.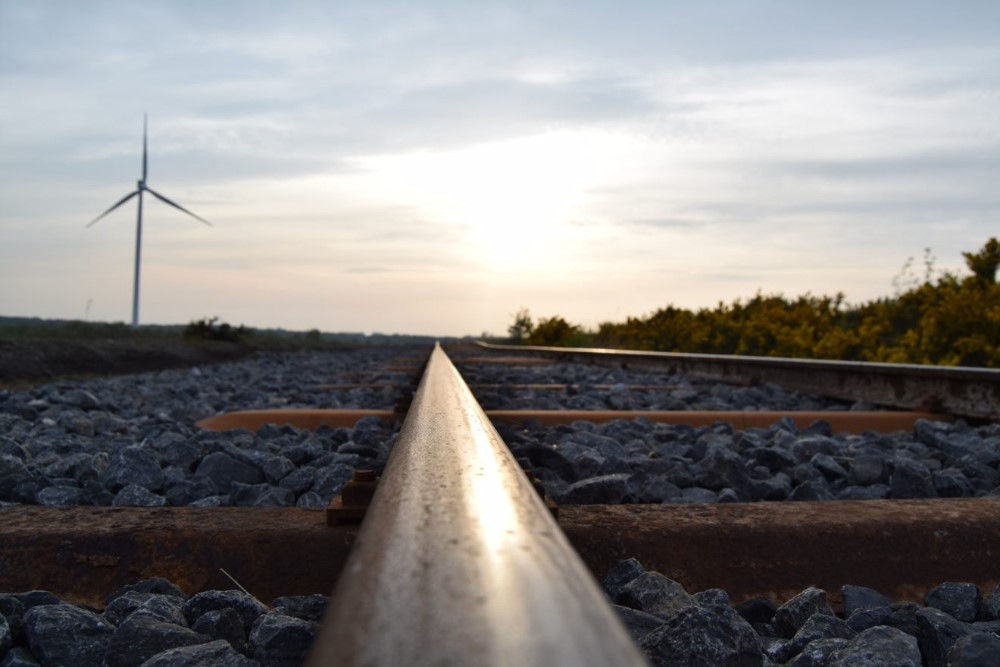 Frequently Asked Questions